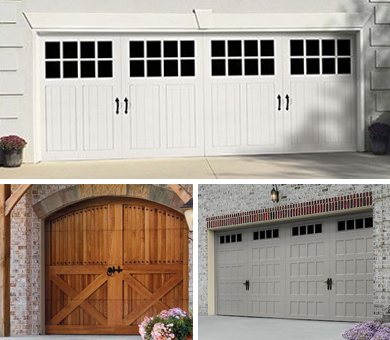 1(888) 414-2230
Precision Garage Door of Fort Collins
New Garage Doors, Replacement & Installation
Serving Fort Collins And Surrounding Northern Colorado
Free Estimates On New Garage Doors 6 Days A Week
Free Estimates On All New Doors
All Calls Answered 24/7
Evening & Weekend Appointments Available
All Major Credit Cards
---
3 Things You Need To Know Before
Buying a Garage Door
1. Which Is The Best Garage Door?
We sell and professionally install Amarr Overhead Garage Doors. We could choose any manufacturer. We made the decision to represent Amarr because they offer the best in terms of quality, durability and warranty. This makes them a very good value for our customers.

---
The energy efficiency of your new garage door will depend on how we'll it's insulated. This is most often stated in R-Value. The higher the R-Value the more energy efficient the garage door.
There are 2 types of insulation used in garage doors: Polystyrene and Polyurethane
Polystyrene is similar to the materials used in a foam cooler. It is less expensive than polyurethane and will provide a high R-value. Polyurethane is sprayed into a door with interior and exterior steel and provides a superior quality and R-Value. It will typically be a little more expensive than polystyrene.
As an example, a wood garage door will have an R-Value around 8. While insulated steel doors can achieve R-Values between 13 and 19.
The best value for your home is a garage door with enough insulation to match the r-value of your home.
---
3. Choose The Best Company To Install Your New Overhead Door
Our door installers are professional and courteous at all times. They arrive at your home uniformed and in clearly marked vehicles.
We carry all the necessary insurance and will provide proof upon request.
---
Windows, Color & Decorative Options
Design your perfect garage door using the Precision Garage Door Designer. You may also submit your design and get a free price quote. Click here to start designing
Choosing The Right Material For Your Garage Door
Your ability to customize your garage door to your home's decor will be affected by the type of door you choose. Garage Doors are commonly found in steel, wood, carriage house and wood composite.
---
Steel is the most common material used in garage doors. It requires very little maintenance. It is available in many styles, colors and window options. Steel doors, when insulated can be very energy efficient. Typically, they are also the lowest in price.
Steel doors come ready for installation but they can be painted if the surface of the door is prepared correctly
---
Carriage house is a style of door, not a material, but you'll certainly want to consider it when purchasing a new door.
Carriage style doors remind us of the days when garage doors were pulled open rather than lifted over head.
Precision will be happy to provide a free estimate and work with your architect on finding exactly the right style.
Carriage house doors now also come in steel and are available to homeowners of every budget. In fact, a carriage style door in steel might be comparable in price to a similar door in raised panel, or just slightly more.
See the available styles using our door designer or call for a free price quote.
---
Houses were made in different periods and many styles. In some cases the shape and size of the garage are unique. No problem.
We can get a garage door customized for your home's specifications. These doors can reflect old world styles, and are available with decorative hand-forged hardware and architectural glass options. Custom garage doors offer many architectural styles to complement your home's design.
Call Now And Get A Free Price Quote On A New Overhead Garage Door